The friendly folks of Davenport, Oklahoma, welcome you!
Congratulations
Betty Thompson!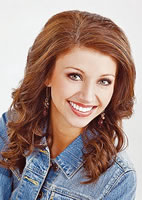 Davenport's own Miss Oklahoma!
Located on Historic Route 66, Davenport is nestled in the lovely hills of eastern Lincoln County.
Settled in the second great land run, the 1891 Sac and Fox Opening, Davenport celebrates its pioneer heritage each year with Nettie Davenport Day on the Saturday before Mother's Day.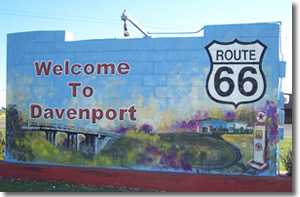 The celebration honors the community's first postmistress and namesake and includes the annual alumni parade and banquet. The day is filled with activities for young and old alike.
Davenport has always been an ideal place to live and raise a family. Today's "settlers" can find an abundance of small acreages to call home in the surrounding countryside of fertile farmland and cattle ranches.
Located between Chandler and Stroud on old Route 66, Davenport is within an hour's commute of Oklahoma City or Tulsa.
Davenport has an excellent school system and great youth activities and sports facilities.
The affordable life-style and peaceful surroundings add to the attraction of Davenport.
Davenport merchants will roll out the red carpet when the Annual Historic Route 66 Cruise passes through.
December brings Christmas cheer to Davenport with the Annual Christmas Parade.