More Info...
In 1903 a colony of "homeseekers," headed by a group of Methodist ministers in Kentucky, formed a corporation called the "Kentucky, Oklahoma, Indian Territory and Adjacent States Land and Townsite Co." and sold stock in the company throughout the state of Kentucky. The purpose of the group was to locate and promote a townsite in Oklahoma Territory where Methodist ministers could purchase lots or acreage surrounding the town and retire. However, the corporation attracted other investors who were not connected solely with the Methodist church, and the mission of the group changed to a central theme of promoting a new town in Oklahoma Territory.
Davenport was incorporated as a town in 1906 and was named after the postmaster, Nettie Davenport.
The main street of Davenport is paved with bricks manufactured at the Davenport Brick Plant, which ceased operation in 1930.
Local historical locations include the Kenton Gold Mine Cave, located on private property on the Sporleder farm north of town, where reportedly the mineral found was assayed at $18.00 per thousand, much less than the amount needed to continue mining; Davenport Cemetery on Highway 66, which contains one of the best examples of the work of the Works Progress Administration (WPA)--a beautiful native stone stone chapel; Gobbler's Knob--the high hill a mile northwest of town, which is the highest point in Lincoln County (It derives its name from early pioneer days in the 1890's when there was a large population of wild turkeys in the area.) The Jessamine Hotel on Broadway in downtown Davenport is constructed of concrete blocks that were made by the Davenport Concrete Block Factory in 1906-07 to simulate rough cut stone. The Tipton home on the east edge of town was built in the late 1920's and is symbolic of the oil boom days.
Today, the largest local employer in Davenport is Central Oklahoma Telephone Co., an independent telecommunications firm that is headquartered in Davenport and serves seven other towns in the area with phone service and Internet services. Many local residents commute daily to jobs in Oklahoma City and Tulsa. A large portion of the local work force is employed in neighboring Chandler at the National American Insurance Company and the Hiland Dairy.
Davenport is a Capital Improvement Planning city.
Events...
Nettie Davenport Day, Alumni Parade, and Alumni Banquet
May 10, 2008 -- This will be the 32nd Annual Nettie Davenport Day sponsored by the Chamber of Commerce to highlight the community's heritage with prize drawings sponsored by all local businesses, all kinds of children's bike & trike races, other games and contests, an arts & crafts show, live musical entertainment, and recognition of youngest and oldest persons present, couple married the longest and mother with most children present. 2008 will mark the 87th Annual Davenport High School Alumni Reunion. Many individual class reunions are held, and an annual parade, which always has more than 70 entries entered including classes riding in decorated floats, is held that afternoon. (The parade is thought to be the only one of its kind that goes down brick-paved Broadway Ave., makes a u-turn and comes back up Broadway, so everyone in the parade also gets to see the other parade entries. It stems from days when dragging up and down Main was the popular thing to do.) Prizes are awarded to the best floats, and a large banquet, usually attended by more than 400, is held in the gymnasium that evening where many traditional events are held and awards presented for oldest alumna present and graduate coming longest distance, etc., and a college scholarship is awarded to a DHS graduating senior.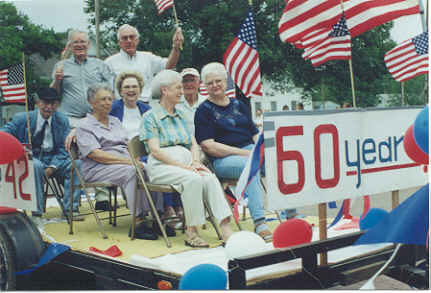 Community Fair
August 22 - 23, 2008 -- 57th Annual Davenport Community Fair -- the oldest continuous community fair held in Lincoln County -- is a three-day event featuring livestock entries of local school youths and adults in the area, as well as home crafts entered by all ages. The event climaxes with events that include a parade of champions with trophies awarded for top fair entries. The fairgrounds are located three blocks west of Broadway at the end of 2nd Street.
Route 66 Open Car Show
Sept. 20, 2008 -- It will be the 10th Annual Davenport Open Car Show that features entries of classic and antique collector autos and trucks ranging from the 1910s to the 1990s, entered in 15 categories of competition. Entrants come from all over Oklahoma and other neighboring states. Door prizes, an arts and crafts show, and musical entertainment help make the event a fun one for all involved. Many prizes are given away by the local chamber of commerce. It is held in the shady grove of native oak trees in North Park at 10th and Broadway on Historic Route 66.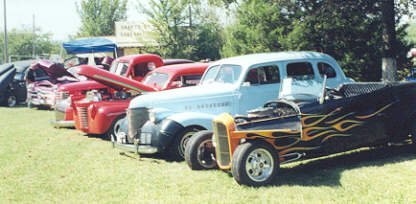 Christmas Parade
Dec. 13, 2008 -- An annual tradition in Davenport dating back to the post World War II era when the event was called a "Christmas party". Decorated floats with cash prizes awarded by the chamber add interest to the parade which is always brought up in the rear by Santa Claus and Mrs. Claus who are escorted by Davenport's Volunteer Fire Dept. and all of its units. More than 400 sacks of treats are distributed by the chamber to children and senior citizens every year, and all businesses in the community give away more than 20 free prizes in drawings held after the parade. The Christmas parade is held along Broadway.


Last Modified 10/20/2007